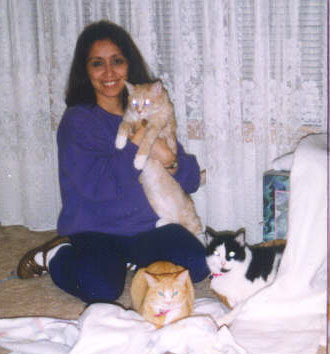 Welcome to the one place where cat "parents" can come to talk about their beloved felines. Our joys, our problems, our experience. A place where you can come when you need advice from someone who has "raised" their cats successfully.
I will be interviewing folks with geriatric cats and pass along their tips to keeping their kitties healthy for so long.
I will share with you how I came to love animals and cats, in particular, as much as I do.
You will be able to send me stories and pictures to share with other feline "parents".
And sadly there comes the time when we have to say good-bye to a beloved kitty. In this web page, I hope, with the help of others, to get you through it.
I am not a psychologist or a veterinarian. I am someone that loves animals and cats very deeply and understands all that goes along with that love.
I hope you enjoy your trip through my web site. I give credit to Philip Gonzalez, Sheilah Harris and to Ginny their dog. It was through reading his story in "The Dog Who Rescues Cats" and "The Blessing of the Animals" that I was inspired to do this web site. Thank you Philip!
You can e-mail me at: Auntie@auntiescatconnection.com